EV Societies in the World
Thursday, September 28, 2023
,
2:00 AM
-
5:00 PM -03
Category: Other Events
---
Series: EV Societies in the World
Date: September 28th, 2 pm Sao Pablo time zone (GMT-3)
Speaker: Ana Claudia Trocoli
Affiliation: Federal University of Sao Paulo, Brazil
Talk title: Latin America Extracellular Vesicles Network
Abstract: In Latin America, a region rich in diverse research endeavors, the year 2016 marked the inception of a pivotal conversation. We embarked on a journey to explore the feasibility of establishing a dedicated research group specializing in Extracellular Vesicles (EVs) within the Latin American landscape. Recognizing the potential significance of EVs in various fields, we set out to comprehensively understand the current research ecosystem. Our primary objective was to identify the existing research groups operating in the EVs field within Latin America and elucidate their unique characteristics. We believed that these characteristics could distinguish them from their counterparts in other countries and regions, shedding light on the distinctive contributions and challenges faced by Latin American researchers in this burgeoning field. We reached out to a substantial cohort of 150 researchers actively engaged in EVs-related research. Their valuable insights and responses provided us with an in-depth understanding of the research groups dispersed across Latin America. These findings not only enriched our comprehension of the regional EVs research landscape but also facilitated the identification of key patterns, strengths, and areas for growth within the Latin American scientific community.
Zoom info
Link: https://us06web.zoom.us/j/88307282579?pwd=d3E0ZnpxV0hzdzlUS2txallFa056Zz09
ID de meeting: 883 0728 2579
Access code: 070688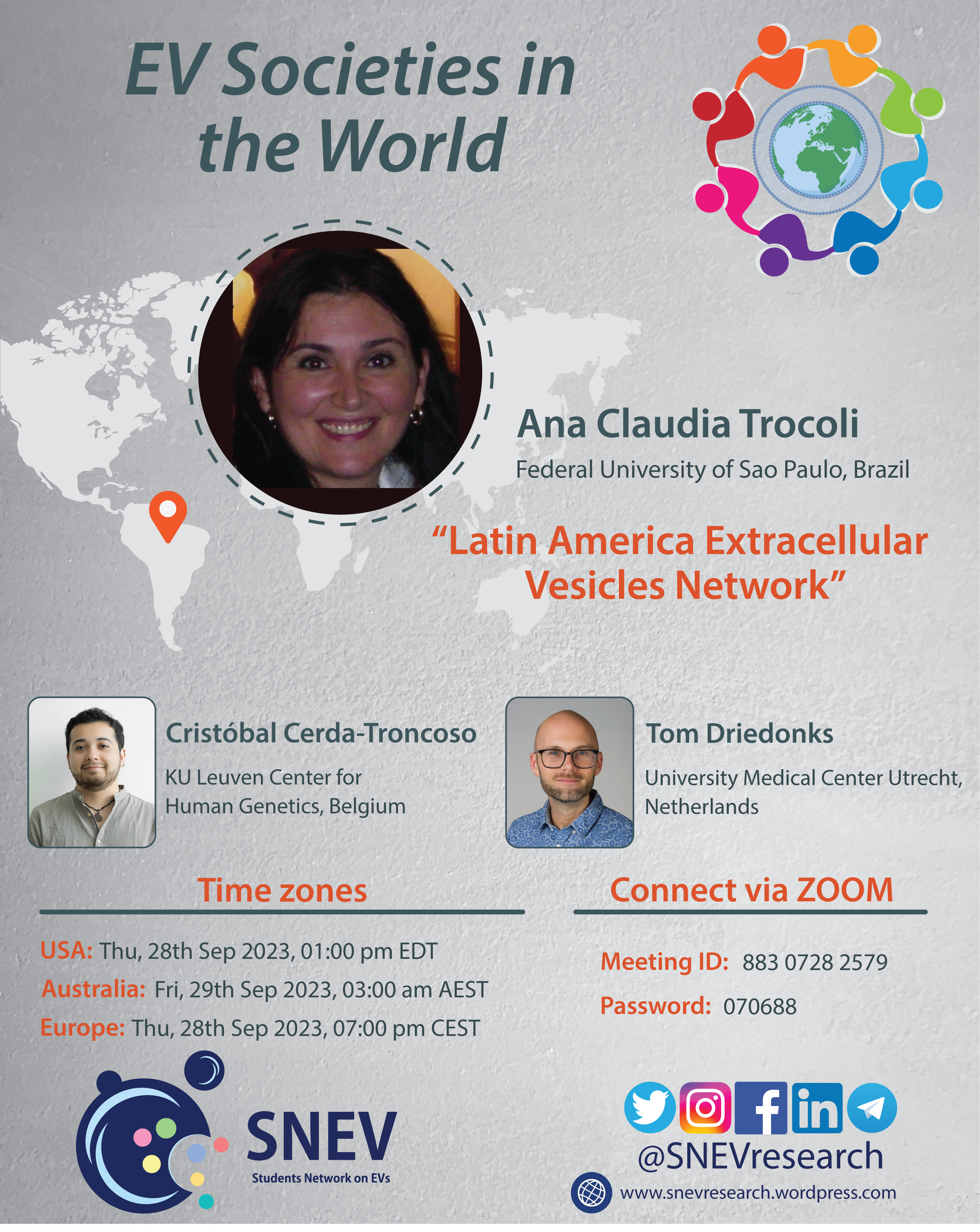 ---