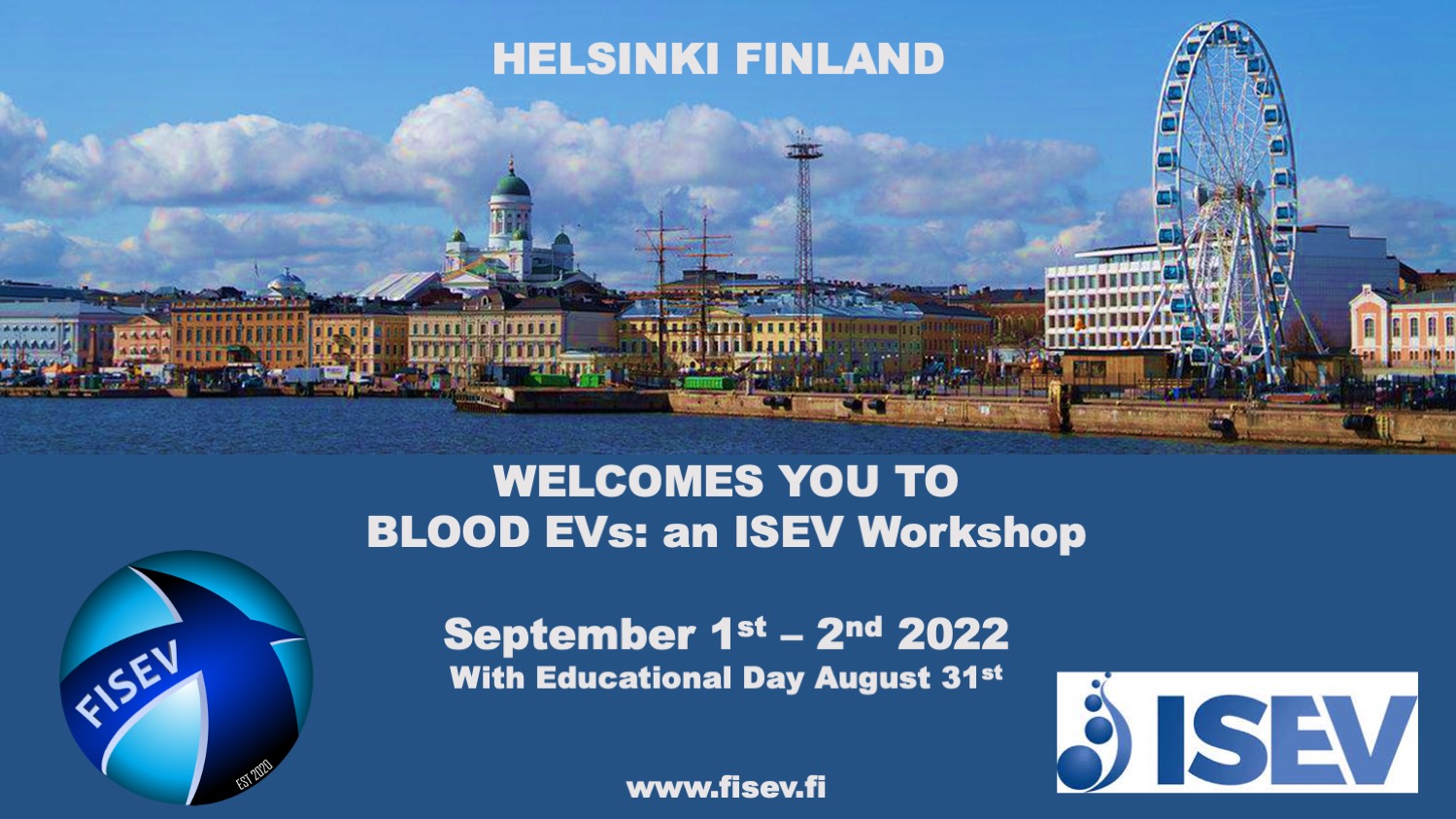 "Blood EVs" is an ISEV Workshop on all things related to extracellular vesicles of blood: how to obtain, profile, and use them. The event will be held in Helsinki, Finland, from 1-2 September 2022 and will be preceded by an Education Day on 31 August. The Workshop will be in-person only, but there will be a virtual option for Education Day. Based on the discussions, there will be a paper prepared on the topic.
The application deadline was Friday, June 24, 2022, 11:59 PM EDT (GMT-4). Please note that applications with abstracts/data/proposed presentations will be prioritized.
Please note that registration to this workshop is free.
Download the full program or view below. Short talks and roundtable discussions will revolve around four themes:
Day 1. Blood EVs as biomarkers
Day 2. Blood EVs as therapeutics
Roundtable 3) Decades of knowledge in transfusion medicine: benefits and disadvantages of blood EVs
Roundtable 4) Regulation of novel blood-based nanomedicines
Approximately 50 Workshop participants will be selected to attend the meeting and will be notified by early to mid-July. 
Only ISEV members may attend; if you are not a member, please visit https://www.isev.org/page/Membership to sign up. A poll on EV practices will be sent out in advance of the meeting. 
 Workshop Chairs and Organizing Committee
Saara Laitinen
Pia Siljander
Sami Valkonen
Metka Lenassi
Ken Witwer
Rienk Nieuwland
Full Program:
ISEV WORKSHOP – Blood EVs
Educational Day
Wednesday 31.8.2022
"Getting the blood-derived EVs into the clinics. From single - to multicenter studies"
Moderator Rienk Nieuwland AMC, The Netherlands & TBA
9.00-13.00
Pre-analytics

Consideration of blood sampling (anticoagulation)
Effectors of plasma EV preparations (e.g. residual platelets, lipoproteins, protein)
Roadmap to improve the quality - towards QC
Refreshments and break

Analytics for different applications
What determinants we need to monitor and how?
Same EVs with different information: know your sample and your aim re isolation
Approaching clinical feasibility?
LUNCH 13.00-14.00

14.00-18.00
Applications of blood-derived EVs
Blood EVs as biomarkers
Concentration, composition, function
Blood product-derived EV -based products
Reference materials, biologicals, drug formulations
Company presentations and results from blood EV analyses
19.00 Welcome reception in Hotel Arthur
ISEV WORKSHOP ON BLOOD EVs
DAY 1 Program Blood EVs as Biomarkers
Thursday 1.9.2022
Use of Blood - prerequisites
Moderator Pia Siljander & TBA, University of Helsinki

9.00-12.00 Morning Session

Summary from Educational day as an introduction: Blood as a matrix of EVs
Different analyses give different information on EVs
Sample quality and analytical choice based on aim
Wrap-up of results from different analyses by companies
Selected talks based on abstracts
Roundtables:
Blood as matrix, choosing the sample analytics, other based on abstracts
Wrap up the roundtables
LUNCH 12.00-13.00
13.00-17.00 Afternoon Session
Blood-derived EV Biomarkers - where are we at?
Discovery of biomarkers
Clinical use of diagnostics
 Selected talks based on abstracts
Roundtable:
Development of diagnostics towards clinical feasibility
Wrap up the roundtables
ISEV WORKSHOP on BLOOD EVs
DAY 2 Program Blood EVs as Therapeutics
Friday 2.9.2022
Moderator Saara Laitinen & TBA, Finnish Red Cross Blood Service
 9.00 - 12.00 Morning session
Systemic delivery to target tissues – blood EVs
Standing on the shoulders of giants, decades of transfusion knowledge
Blood group and tissue type: challenge or opportunity?
Artificial EV-inspired mimetics for drug delivery
Selected talks based on abstracts
Roundtable:
Benefits and disadvantages of using blood EVs as therapeutics
 Wrap up the roundtables
LUNCH 12.00 – 13.00
 13.00-17.00 Afternoon Session
Red blood cell -derived nanobiotechnology
Key benefits /disadvantages of RBC derived EV
Technologies for loading and targeting of RBC EVs
Selected talks based on abstracts
Roundtables:
Regulation of novel blood-based nanomedicines
What should we have discussed and what next?
Wrap up of the three days' into possible deliverables
 Planned deliverables of the Workshop:
Impact and considerations of technological choices on blood EV analyses (data from blood EVs and sponsor analytics, survey, roundtable outcomes)
Therapeutic use of blood cell -derived EVs